Inventionland Creationeers were amazed by the many student contraptions submitted for the 2016-2017 Chain Reaction Contraption Contest event held at the Carnegie Science Center in Pittsburgh. Read on to learn more!
It's a chain reaction! Once some of our Inventionland Creationeers got a look at the crazy contraptions students came up with for the Chain Reaction Contraption Contest (CRCC) earlier this year, there was no doubt they'd be excited to see what the next contest would bring.
The contest, sponsored by Westinghouse Electric Company and presented in cooperation with the Carnegie Science Center and the Engineers' Society of Western Pennsylvania, is a creative competition geared towards students in grades 9-12 that challenges them to create a machine that will accomplish a task using a unique series of steps.
The 2016-2017 theme of "UNLOCK and LOCK IT UP" fostered many unique submissions from talented student groups and individuals, all of which Inventionland Creationeers got to view and judge at the Carnegie Science Center event earlier this December.
For our Creationeers, it was a fun opportunity to attend as a group to offer a professional maker and inventors' take on all of the students' contraptions.
"I was very excited about leading this team of people on this fun adventure," said Creationeer Michael, better known as "Spicey," who has participated in the event before. "It was nice having several of us from the Inventionland team there this year."
Spicey was joined by fellow Creationeers Shannon, Megan, Chris and Jon whose first time participating was an experience that impressed.
For Creationeer Chris, the Chain Reaction Contraption Contest fell right in line with his fascination with Rube Goldberg's contraptions. Reuben Garret Lucius "Rube" Goldberg was an American cartoonist, sculptor, author, engineer and inventor. "He's kind of the guy these contraptions are based off of," said Chris. "He made overly complicated machines to do something really simple."
These "overly complicated machines" were created with so much detail that Creationeers couldn't help but take notice.
"There was a wide range of contraptions. Overall, the creativity was impressive. Some of them had a real attention to detail. That was probably the most impressive thing that some of them accomplished was their attention to detail," said Chris.
One student from Leechburg Area High School won the "What Will You Create?" award, sponsored by Inventionland, which was presented by Spicey.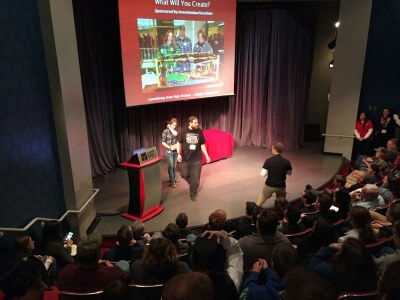 "The detail of the different things she did brought it together," said Spicey. With her jungle-themed contraption, Spicey said, "She did a great job laying out the story with such creativity. She did an excellent job of creating a story about the way a tiger was going to be captured. The whole contest is about 'unlock and lock,' so the ball – in this case, a tiger – traveled down the path, activating each cage that would come down to trap the tiger again. So, once the ball gets to the bottom of the contraption, it traps it! It was very well done and uniquely made," commented Spicey.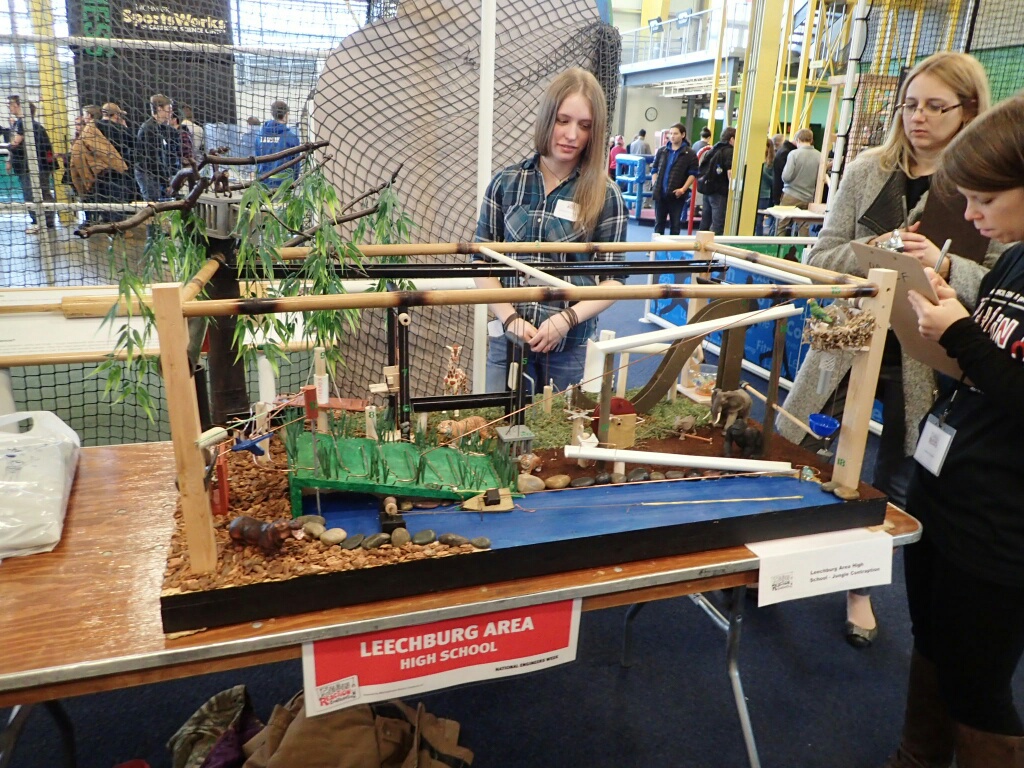 "Everybody's contraption was really different even though they were trying to accomplish the same thing," said Creationeer Shannon.
"I was very impressed," said Creationeer Megan. "I liked to see what they came up with. Whether they worked or not, it was cool to see the effort the students put into it."
Creationeer Jon was equally impressed. "It was really cool to see the enthusiasm of the students. I was impressed with the creative ways that they came up with to make their contraptions work…It was cool to see their teams work together," said Jon.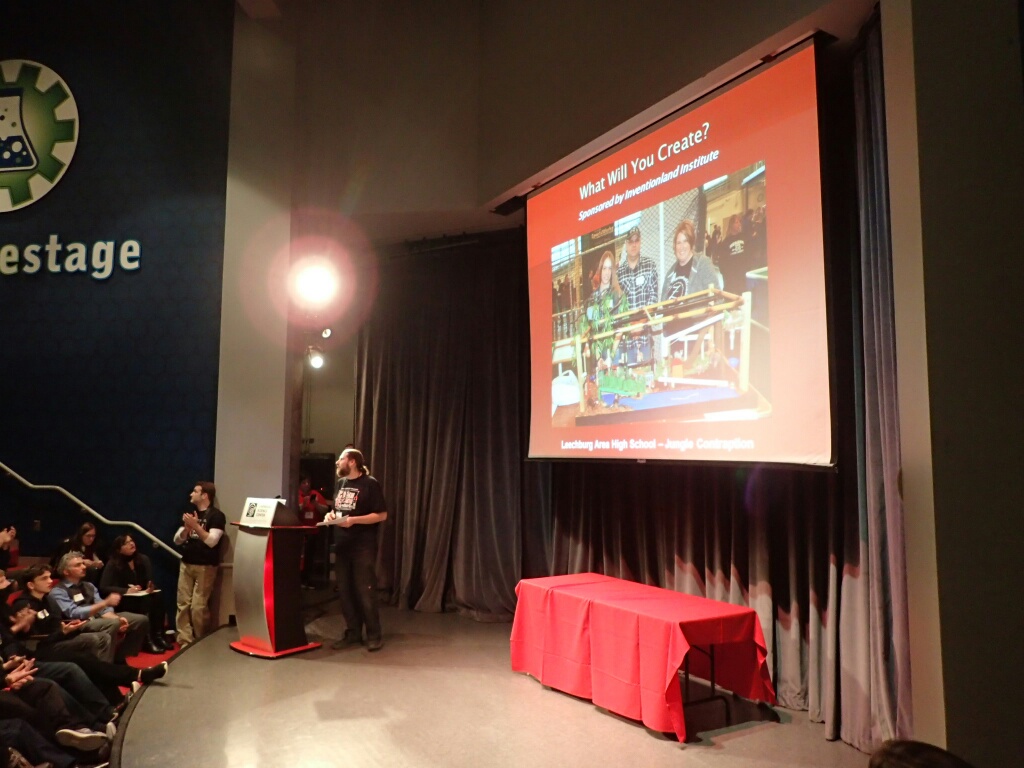 Participation in the contest aligns with Inventionland's educational offerings. "We're well on our way to promoting our education offerings to schools and I think this fits right within what we're doing with all the schools. The students are learning new things and being creative!" said Spicey.
"They're definitely going to be the inventors of the future!" said Chris.
Congratulations to all of the 2016-2017 Chain Reaction Contraption Contest winners and participants!
Copyright Inventionland, 2016