At Inventionland, we use our laser-cutting machines to precisely cut or intricately engrave plastic, cardboard, wood, and more. Inside our Laser Shop, we have high-heat laser cutters that help us cut templates out of materials like styrene, acrylic, and cardboard. It's an artistic skill that is being used around the world. In fact, a business in Barnsley, South Yorkshire, England worked hand-in-hand with one of the top surface pattern designers in Yorkshire to make a hospital more inviting to its visitors, and, more importantly, its patients.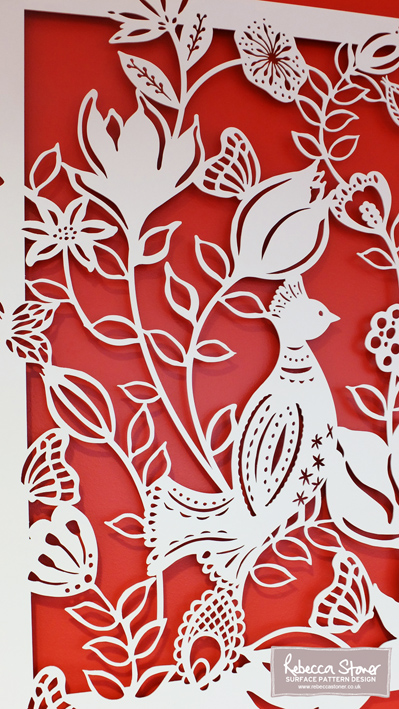 Designer Rebecca Stoner was given the task to create a wall feature for York Hospital's Breast Imaging Department in the Magnolia Centre, which is part of the Cancer Care Centre. She collaborated with the laser cutting and engraving specialists at Cutting Technologies Ltd. to complete this project. Through the usage of a laser-cutter, Stoner created a design of magnolia flower heads, flowers, leaves, butterflies and bird motifs that were cut into the metal. Next, Cutting Technologies Ltd. used their world-class machines to cut out the delicate and intricate designs on mild steel panels. Once the designs were cut, they were then powder-coated in order to give them a cream color. The cream color was used to replicate a lace-like quality that would stand out against the vibrant red hospital walls.
The idea behind this artwork came from the creativity of Stoner, who wanted to create a pattern that was not only bold enough to be seen as people passed by but, when looked at closely, someone could see the great detail of the piece.
Laser cutters can create a variety of objects. Just like a laser cutter allows us to make different prototypes and objects, it also helped an artist turn her creative idea into a beautiful, artistic reality that people enjoy and appreciate on a daily basis.
Copyright Inventionland 2014
Sources:
https://www.industrial-lasers.com/articles/2014/06/laser-cut-artwork-lifts-hospital-patients-spirits.html
Media:
https://rebeccastoner.co.uk/portfolio/magnolia-centre-metal/