The Pittsburgh Business Times has recognized Inventionland as a 2014 Manufacturer of the Year finalist!
Inventionland made the nominee list in both the Overall Excellence and Sustainability categories!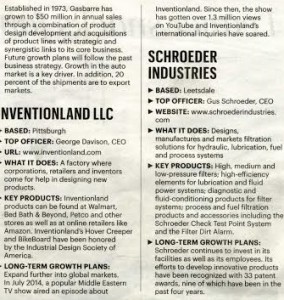 All nominees were honored at the 11th annual Manufacturer of the Year Awards program, which was held December 4, 2014 at the Omni William Penn Hotel in Pittsburgh.
The program, and a supplement to the Pittsburgh Business Times newspaper, recognized Inventionland as "a factory where corporations, retailers and inventors come for help in designing new products," noting the popular Middle Eastern TV show "Khawatir," which featured Inventionland on an episode that now has garnered over 1.5 million YouTube views since first airing last July.
With all other finalists, Inventionland was deemed one of the "region's best manufacturing firms."
Congratulations to our creative design facility on this very worthy recognition!
You can read more about the Pittsburgh Business Times and the 2014 Manufacturer of the Year Awards here.
Copyright Inventionland, 2014
Sources: