Media tours and exposure are nothing new at Inventionland; in the past, we've opened the doors to our 61,000 square foot design facility to media bigwigs from CBS' The Early Show and HISTORY for various TV segments and specials.
But, it is not every day that we welcome international visitors to "America's Largest Invention Factory."
So, when representatives from the popular Middle Eastern TV show "Khawatir" stopped in for a visit in early spring, we were more than happy to roll out the red carpet and give our international guests an exclusive look into the Inventionland inventing process.
Khawatir, which airs on the Middle East Broadcasting Center, first ran their "Creative Solutions" episode that showcases Inventionland last week. Since uploading the show to YouTube, it has received nearly one million views in just under a week's time.
The Middle Eastern show that has been on the air for over 10 years linked the idea behind Inventionland to "every huge company [that] has sprung from the seed of an idea in someone's mind," referencing moguls like Google, GE and Apple during the episode.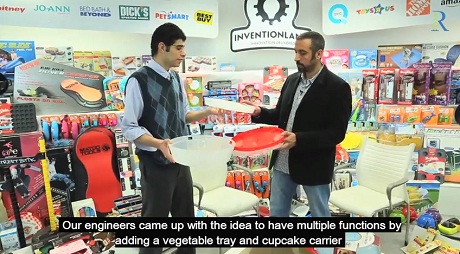 While touring through Inventionland, Khawatir host Ahmad Al Shugairi noted products like the Party Traveler, which we designed for our client, Joy, and the Can Pump & Pour, which took 100 prototypes to reach development. He also tried on the wearable Fuel Helmet packaging solution that we designed for Walmart shelves.
Pointing to the revolving carousel of products that circle through Inventionland, Al Shugairi said, "It's a testament to all the inventions developed here and the continuous innovation brewing in these halls."
According to IMDB, Khawatir is "A TV show devoted to [helping] young people to be mature in their faith, work, knowledge of the world, and their role to make their countries a better place to live."
After highlighting Inventionland and the company's various capabilities, Al Shugairi said that he hoped the show's examples would "encourage [Khawatir] viewers to not give up on their ideas… believe that your ideas can become real."
See the entire Khawatir "Creative Solutions" episode here:
Copyright Inventionland 2014
Resources:
https://www.mbc.net/en/corporate/about-us/history.html
https://www.imdb.com/title/tt3062514/