According to New York Architect Lee F. Mindel, "Interiors are no longer decorated, they're curated."  We have to agree.  One of the main focuses of the Maker Culture is do-it-yourself (DIY) furniture, which many artists, both novice and professional, have run with in order to create one-of-a-kind pieces. After all, the most searched phrases on Pinterest start with "DIY," with "DIY home decor" being at the top of the list.  You can find step-by-step instructions to do anything from making a sofa out of a bathtub to creating peek-a-boo drawers in a dresser. But it doesn't stop there. Many artists from around the world are using furniture as their medium to create amazing works of art.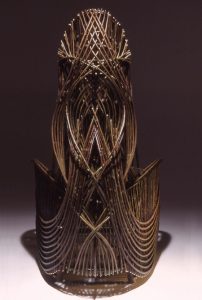 Combining nature and furniture is what Clifton Montieth does best. Montieth, an American furniture maker from Michigan, creates with mostly willow wood and other natural materials. He specializes in lanterns and chairs, which he crafts with tremendous intricacy. His willow chairs are better described as thrones of woven branches than as a chair someone would fit into their living room. Originally, his work was simply meant to help replace what he lost in his divorce. But, a local gallery owner took the first chair he completed, sold it within a few days, then called Monteith to request more. Though Monteith's most popular work is from the late 80's or early 90's, you can still find his chairs being auctioned and purchased today. He also continues to build pieces that are available for sale.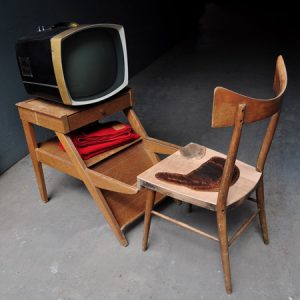 Karen Ryan, a British artist, created a project called, "In the Woods." Though this project looks more like an art installation than functioning furniture, the project is exactly what you would imagine a maker creating: it mixes fashion with function. Ryan fused two chairs together at their tops, and as she found other chairs they were added to the top to make the piece look like a tree. Ryan's current project, "Custom Made" (pictured) is a collection of chairs that look factory made but have additional features such as added furniture, broken-down baseball gloves, and old books dismembered and attached to the originally found chair.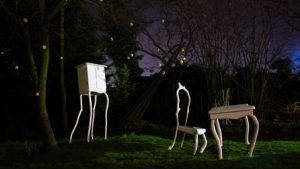 Dutch designer Bo Reudler created a series called "Slow White." This is a collection of furniture that looks like it's ready to run through the woods. At the base of the project is traditional furniture such as a dresser or side table; however, the project takes a turn at the legs, which are replaced with branches both thin and thick. The collection consists of handmade tables, chairs, cabinets, and more. Reudler, who detests using a computer to design furniture, went out into the woods in protest and came out with a furniture collection. His current work contains functional pieces made out of bamboo, various woods, and metals, and are considerably more modern than Slow White.
When we choose furniture, it's an expression of ourselves–we all have likes and dislikes and our choices reflect that. Furniture crafts the background of your world and explains who you are or what you like without words. It was practically made for Maker Culture to have their hands on; you can easily turn it into an art form by putting your own unique touch on it. It comes to no surprise that some artists and designers have made it their medium of choice, from furniture and home décor to much more.