Halloween is right around the corner and with that comes one of the biggest parties of the year, Inventionland's Halloween party! Halloween is one of the bigger holiday parties at Inventionland. So much so that at the beginning of October, our Creationeers took a half day off just to decorate all of the sets!
For those of you who have toured Inventionland this past month, you know what we are talking about. You cannot go anywhere without seeing Halloween decorations! People are amazed when they walk through and see just how "all out" we go when it comes time to decorate for our favorite holiday.
Each team is responsible for decorating their own set and what some people come up with is pretty amazing. From fog machines to cobwebs, to carved foam skulls, there is no predicting what the Creationeers will come up with each year. This image shows one of the more creative decorations that a Creationeer build this year as an entrance to his office.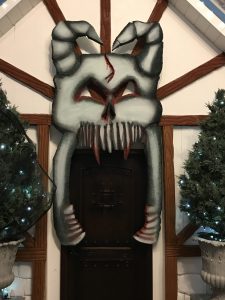 "Every year it seems as though the decorations get more and more creative," says Michael, who is in charge of organizing all of the decorating and party activities here in Inventionland.
The entire month is a celebration of Halloween which all leads up to our much anticipated Halloween party. Throughout the years, Creationeers continue to outdo themselves with the costumes they put together.
Everyone looks forward to the annual costume contest where the Creationeers get to show off their costumes and judges pick the best ones. Prizes are awarded to those who win, along with the Halloween party trophies that are made just for the occasion.
Inventionland has seen some pretty crazy costumes over the years but who knows what we will see at this year's costume contest?
Check back in the weeks to come for an Inventionland Halloween Party recap!