The history of the manufacturing industry is difficult to pin down. It's vast, complicated, and intertwined with the histories of other businesses and companies. But it's possible to suss out some of the defining moments- and how women have influenced it to this day.
The first major milestone in manufacturing history was in 1785 when modern bulk material handling was first used. Oliver Evans built an automatic flour mill with conveyors, elevators, and similar devices. Other major accomplishments included the Industrial Revolution of the 1820s and the popularization of the American System of Manufacturing in the 1850s. Computers, now a vital part of most industries, were first introduced in 1953 and have been tied to manufacturing ever since. PCs, cell phones, and 3D printing are also modern advancements reshaping our understanding of the manufacturing industry.
According to the United States Census, women made up one-third of the manufacturing industry in 2017. Interestingly, women manufacturers actually make more than their peers in other industries by just under $5000. They still made significantly less than their male coworkers, however, by a staggering 28%. And much like the inconsistent history of both manufacturing and construction, most women in the manufacturing industry are in sales and office positions.
There are untapped benefits in having female workers, though. "Research shows that gender diversity benefits a manufacturing organization through improved ability to innovate, higher return on equity, and increased profitability," reports Deloitte. "When employees believe that their organization is committed to inclusion, they report better business performance in terms of their ability to innovate. Organizations can also unleash the full potential of their female workforces by creating a culture where unique strengths thrive." These strengths vary of course, but leadership, creative thinking, and different perspectives are among the perks.
Recently, we spoke with Lori Albright, President and CEO of Stellar Precision. She told us of her experiences as a female leader in the manufacturing industry and what the future holds for her, for manufacturing, and for other women.
INVENTIONLAND (IL): What is it like to be a woman in the manufacturing industry?
LORI ALBRIGHT (LA): I've been in Manufacturing for 40 years now, so it's normal for me.  However, it is quite common for me to participate in customer events or trade organizations and be one of the very few women participating, if not the only one.  A story I frequently recall is when I've attended a high-level management meeting of customers and vendors and am frequently mistaken for the administrative assistant or wife of one of my male management team members.
IL: What inspired you to join the manufacturing industry?
LA: My father started this company when I was a teen. Early on I was drafted into it rather than be inspired to join, but as time went by it is something I've become passionate about, especially in the marketplace we support.  Aerospace, Space, and Defense are exciting opportunities.  My employees have often spoken about what we do here as a reflection of their contribution to our country.  Many of us have not had the opportunity to serve otherwise and consider it a personal mission to be able to support in this way.  We hear stories from military personnel who have used products that we've helped to produce, we get to watch various rocket launches that we have made parts for, all while providing life-sustaining careers for our staff.  How can you not be inspired by that?
IL: How did you rise to become CEO of Stellar Precision?
LA: Stellar is a family business, started by my father in 1979.  He retired in 2003 and I assumed the role at that time.  While I was certain at that time that I was well prepared, there is nothing quite like having to do the job to truly learn the job.  I am always looking for learning opportunities and have had the great privilege to attend the Owner / President Management Program at Harvard Business School, I am active in many trade societies and peer learning groups.  CEO doesn't mean that you've made it – it means that you have a great responsibility to this company, and all its stakeholders, to do the very best job that you can.
IL: Do you see the industry becoming more accepting of women in the future?
LA: I see a significant increase, particularly at my customer levels, of women in leadership roles.  Two of our largest customers have women CEOs (Lockheed Martin and Aerojet/Rocketdyne).  I realize that having women in leadership positions doesn't always equate to "acceptance," but there is progress.
IL: If and when do you see the pay gap between men and women decreasing?
LA: At Stellar, we pay fairly based on the job and do not discriminate based on gender.  The pay gap is a more complex issue than equal pay for equal work.  What I know is that there are very few women applying for Machinist jobs which tend to be higher paying careers.  The challenge I see as a manufacturing business owner is that female applicants are few and don't appear to be going into the trade.  One of the initiatives I work closely with is Women in Manufacturing Day at the Advanced Technology Center at Westmoreland County Community College.  This is our 5th year of inviting high school aged young ladies to the trade school to meet women who own manufacturing companies and learn, hands-on in many cases, about a variety of opportunities in manufacturing.
IL: What difficulties do women face in entering the manufacturing industry? Any advice for girls interested in manufacturing?
LA: Regarding difficulties entering manufacturing industries, I understand that historically women were not always welcomed by male counterparts.  However, I wonder if the stigma of entering a manufacturing trade is now driven by others who consider it "blue collar," or unacceptable to families, rather than entering a 4-year degree program.  At Stellar, we pay apprentices on the job, pay for their tuition and books for a 4-year Journeyman program, and they can earn an Associates' Degree with a few additional core classes.  At that point, they are ready for the trade, hold a degree and have zero debt.  I'd absolutely advise young women to take advantage of an arrangement like this rather than having to pay student loans indefinitely while still being unable to find an entry level job in their chosen field of study.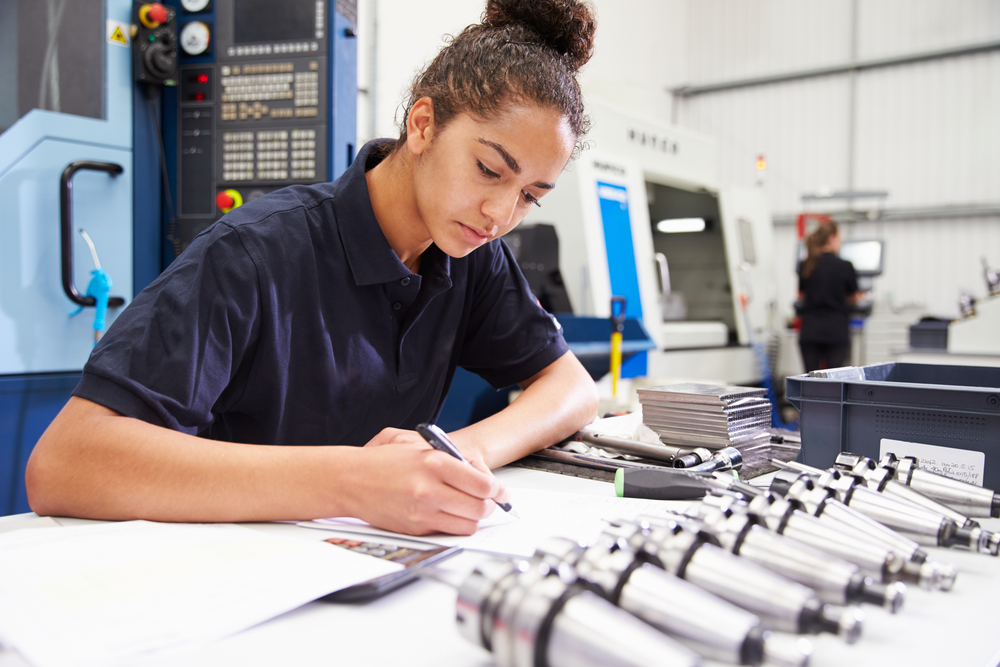 IL: What is the future of aerospace?
LA: My knowledge of the future of aerospace is driven by my experience with my customers.  They are all forecasting previously unseen increases in the number of new programs and the volume of work in existing ones.  The future looks bright, technology is rapidly advancing, the jobs pay well.