Have you heard about the Inventionland Institute? If not, keep reading our blog to learn more!
With an April 7th start date, the DuBois Business College is preparing to launch a fully-credited Inventionland Institute course into their curriculum.
"We could not be more excited. The students have shown a keen interest," said DuBois Business College President and CEO Jackie Syktich. "We look forward to seeing how our students will apply their newly learned and state-of-the-art problem solving and entrepreneurial skills."
To help kick off the innovative new course, Inventionland Executive Director of Design Nathan Field has been working closely with DuBois Business College instructors. Recently, Field traveled to the DuBois, Pennsylvania campus to tour their facility. During his tour, Field also took the opportunity to generate even more interest in the entrepreneurial class.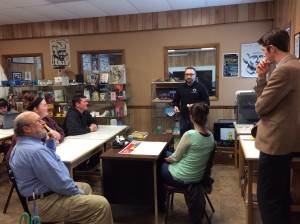 "I talked with one class and the instructors quickly pulled me into others," said Field. "Since then, the students have been visiting the Inventionland website and asking how they can sign up for the course. It definitely created quite the buzz!"
Following Field's late February visit to the school, Inventionland Institute instructors came to Inventionland for a pre-course prep class of their own.
"We gave them a little homework assignment before they came and that was to review the online portal," said Field. "Not only were they impressed with the curriculum, but they said they were 'blown away' by the additional teacher notes and overall ease of use. Really, I didn't have to do too much for them!"
Though he may not have had to guide the instructors through much of the Inventionland Institute material while they visited Inventionland, Field said that seeing their excitement was a great payoff for all the work that everyone already has put into the curriculum.
"It is such a good feeling to have others see the class value and just get excited about it," said Field.
The DuBois Business College is the second educational institution to adopt the Inventionland Institute curriculum. As we previously reported, The Kiski School, has already adopted the coursework!
According to Field, he has already been back in touch with Kiski students on their class progress.
"We did phone interviews to discuss their ideas and how they're moving forward," said Field. "You could hear their enthusiasm on the phone as we discussed their models and I gave some manufacturing tips."
The next steps for the Kiski students will be to pitch their products to our panel of experts at Inventionland near the end of the semester, which is also a step that the newly-enrolled DuBois Business College students eventually will complete.
As the Inventionland Institute moves forward, Field said that there are plans to add new class modules. Currently, he is working to develop a module devoted to 3D-printing technology. Beyond new content development, Field is working to take the Inventionland Institute to other area schools and far beyond.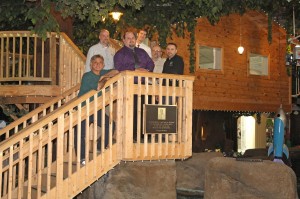 "It is a big, big opportunity for many people," said Field. "And, it is just so much fun to work on!"
We look forward to seeing more from this inaugural class of Inventionland Institute students and will be sure to report on their continued class progress!
Copyright Inventionland, 2015