News about the Inventionland Institute continues to pick up STEAM and the DuBois Business College is serving up the latest and greatest! Keep reading to learn more!
Simply put, quite a few things around here have been gaining a lot of STEAM (Science, Technology, Engineering, Art and Math) lately.
First of all, The Kiski School was on campus at Inventionland yesterday to present their final products to our team of inventing and design experts. That means, their first full semester of the Inventionland Institute course is coming to a close! We'll be providing their full presentation recap very soon… stay tuned!
While The Kiski School is preparing to close their first chapter with the Inventionland Institute, the DuBois Business College (DBC) is in the thick of their coursework right now. Their semester began early last month and since that time, students have been working away on their new product ideas.
Inventionland Executive Director of Design Nathan Field has been back to DuBois to see the students in action and he says that it's not just pencils and books that they're using to make their new product ideas come to life. The DBC Inventionland Institute students are sketching out their ideas and envisioning them with engineering software programs.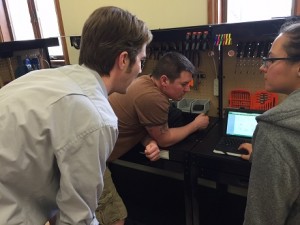 Next, they'll develop tangible product prototypes that they'll eventually present to our expert panel at Inventionland.
Check back soon for The Kiski School and DBC reports, you can expect some major STEAM to be blowing around here for quite some time!
Copyright Inventionland, 2015