By now, you've probably all seen last Tuesday's Steve Harvey show, where the Emmy-award winning funny-man welcomed our founder and CEO Mr. Davison to take part in judging his "Pitch to Win" inventing contest.
In the segment, Mr. Davison helped Harvey and his audience to select a winner from two working mothers who presented their invention ideas. After choosing, Mr. Davison presented a $10,000 check from Inventionland to help the winner further pursue her invention. He also generously gave the runner-up a check for $1,000!
Watching Mr. Davison on the nationally-syndicated show during Harvey's season 3 premiere week was awesome enough, but did you know that Mr. Davison's inventing advice continues to inspire Steve Harvey fans who have an itch to invent?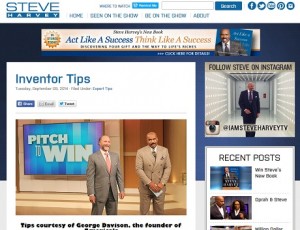 On the Steve Harvey show website, filed under the "Expert Tips" section, you can find a page called "Inventor Tips." On that page, you will see a snapshot of Mr. Davison with Steve Harvey. Below the image, you can find Mr. Davison's advice on how to get an invention started, when to patent and who to trust with an invention idea.
Now, it's only been just over a week since Mr. Davison's appearance on the Steve Harvey show, but, we have no doubt that the positive responses will continue to flow in!
Copyright Inventionland, 2014