The inaugural Inventionland Institute presentations were full of creativity! Find out what kind of innovation was STEMming from their inventions!
Over the last few months, there has been a lot of talk around here about one of the newest ways that Inventionland is using a little STEM (Science, Technology, Engineering, and Mathematics) to inspire the leaders of tomorrow. Of course, we're talking about our friends at the Inventionland Institute whose curriculum was included at Mr. Davison's alma mater, The Kiski School, and the DuBois Business College this semester.
With great pride, we're excited to announce that the first group of Inventionland Institute students from The Kiski School completed their coursework on Tuesday, May 19th, when they came back to our creative design facility, Inventionland, to present their final products to an expert panel of judges.
Unlike other curriculums out there, the Inventionland Institute offers a new spin on STEM education. Rather than providing the students with a problem, we teach them to identify one on their own and from there; they follow the process and the steps of the Inventionland Institute curriculum to find a solution.
The final presentation event was chock full of innovation! Five teams of Kiski students presented their product ideas that solved everyday problems that they identified in many aspects of life including in the classroom and even in the kitchen!
From there they found Better Ways to do things while eating, shoveling snow and trying to clean their glasses or computer screens!
In 5-10 minute presentations, the Inventionland Institute students from The Kiski School not only pitched their products and answered questions, but, they also debuted the infomercials that they created in order to promote their new product ideas to our panel of judges!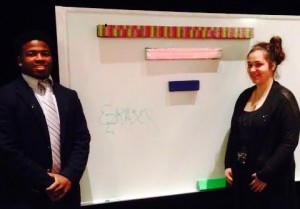 The three-person team of Alena Henderson, James Burke and Isaiah Cofield were named the winners of the final presentation!
The winning team identified a problem with what they saw each day inside of their classrooms… the erasers. They simply were inefficient. So, Henderson, Burke and Cofield researched a Better Way to clean the classroom whiteboards that would be less expensive and easier to do. Their product is something that doesn't require installation or training and will remain vital despite advancing technologies.
According to The Kiski School representatives, some of the group's teachers already have tried to place orders for their invention!
This is just the first group of students to complete the innovative Inventionland Institute curriculum, but if their success is any indicator of what's to come, we'll be seeing new product ideas coming from this course for a long time!
The DuBois Business College students will be the next to complete their final presentations at Inventionland and we'll have full details about their presentations when the time comes!
Congratulations to the student inventors from The Kiski School who completed the Inventionland Institute course!
Copyright Inventionland, 2015