There is a big event coming up that has our team at Inventionland very excited ! Remake Learning Days is a 12-day event starting on May 15th and stretching till the 26th. This event is held by partnering organizations throughout the southern Pennsylvania and West Virginia regions.
Inventionland is proud to be sponsoring an event to help children and their families learn skills that they will use throughout their lives. The Inventionland Innovation Course will be the focus of our efforts to contribute to remake learning.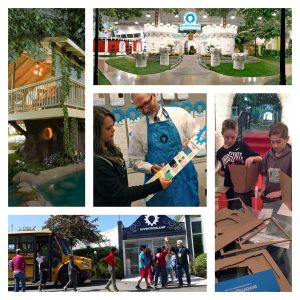 The Remake Learning Network creates hands-on activities for children and their families that will help prepare them for the future via relevant and engaging educational experiences. The event is being held at multiple locations throughout the Pittsburgh region and Inventionland is one of them! There are many different themes to this event that people can participate in including science, technology, maker, youth voice, outdoor learning, and arts.
Inventionland will be focusing on the Maker theme of Remake learning days and will be hosting an event here on May 18th. The event is free to anyone who wants to attend but you must register via the Eventbrite link on the Inventionland Remake Learning Page.
When children and their families come to Inventionland, they will be immersed in the Inventionland atmosphere. Students and families have the option to choose between three different tour times where they will get to walk through Inventionland and see what our Creationeers do on a daily basis. Attendees will also be able to participate in working with one of our Maker Kit activities!
Don't live near Inventionland? That's okay! There are three schools that are having events in which our Inventionland Innovation Course will be displayed!
Frazier Middle School will be hosting an event, where they will showcase the Inventionland Curriculum and show the product materials of the curriculum, allowing students to create their own product prototype.
Bethlehem Middle School will also be hosting an event where they will showcase projects their students made by following the Inventionland Curriculum!
Burgettstown Middle School will be hosting an event where attendees will be able to tour their Inventionland Makerspace as well as preview their "Inventors Gallery" and see projects students have made by following the course!
We welcome anyone who wants to attend and we hope to see you soon!
Copyright Inventionland, 2017