At Inventionland, we're celebrating Great Outdoors Month with the help of our founder and CEO George Davison. Keep reading to learn more.
The final school bell has rung for many and summer is in session.
With that being said, a lot of outdoor activities are on the horizon for kids and their families. From soccer or baseball games to a family camping trip, there will be lots of time spent in the great outdoors.
Given that it's actually Great Outdoors Month, we found this to be the perfect bridge to tell you about our founder and CEO George Davison's latest and greatest invention.
You might want to take a seat before reading this and you'll find out why shortly.
George Davison has more than 25 years under his belt in the inventing industry and over this time, he's honed in on his skills of identifying problems and creating viable solutions.
So, back when he was the coach of his kids' soccer teams, he began to realize a common problem. With the benches straight across, it could be difficult to get all the players to rally around without distraction. This became a frustrating problem because he was unable to get his players in a half circle to rally and encourage them.
Being the great inventor that he is, he channeled his creative and innovative spirit and came up with the Curved Bench, which has been licensed to Creative Outdoor Distributors. Last month, his invention hit the market for sale on Amazon.com and Overstock.com.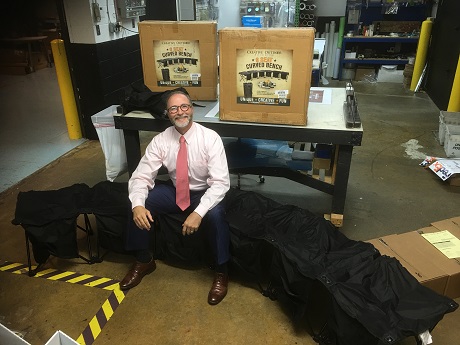 These two popular ecommerce sites aren't the only place that the world's first curved, fold-up bench can call home. In fact, his invention can be found right in our very own invention factory!
The Curved Bench can now be found under Davy's Treehouse, near Creation Cavern – an appropriate setting for the bench and, of course, a campfire.
Now, George Davison can rally our Creationeers just like he did when he was a coach!
So, in honor of Great Outdoors Month, we hope you enjoyed our campfire story of another George Davison invention, the Curved Bench!
Copyright Inventionland, 2016