What do Inventionland and the Science Channel's MythBusters have in common? Keep reading to find out!
You've seen him on Inside Inventionland. His designs are a little bit Rusty. He was once mistaken for Thor. If you haven't guessed yet, we're talking about Inventionland Senior Design Manager, Clay!
This innovative Creationeer is putting his expertise, personality and creativity to good use in the name of the Science Channel's MythBusters!
"[The Science Channel is] making a show about trying to be the host of a [new MythBusters] show, so it's very meta. It's like a million of other reality shows out there, none of which I'm familiar with as I don't watch reality shows – (except for MythBusters and I was always a fan of Dirty Jobs.) I never had any interest in contest shows, like Survivor and stuff," said Clay. "Nonetheless, I've applied to be on one of them… But, it's the opportunity to try to become a MythBuster!"
As Clay mentioned, the Discovery-owned Science Channel is in the midst of casting for a reality competition series, Search for the Next MythBusters. This new show follows the MythBusters series finale that aired early last March.
For 14 seasons, viewers were given the chance to watch as Adam Savage and Jamie Hyneman put science to use in order to test various myths and rumors.
Science Channel executives said that the new reality series is geared toward an "all-new generation of myth-busing science superstars with mind-blowing build skills and nerves of steel."
We don't want to sound too biased, but that sounds like they're talking about Clay!
The network is currently looking for 15 participants who will solve challenges on the show. Viewers were invited to submit videos that showcased their potential and according to the executives, ideal candidates are, "people who have building skills and are naturally inquisitive…People who don't mind getting embarrassed a little bit, who ask lots of questions and have the skills and knowledge to put those to the test."
Clay is inquisitive, energetic and is ready to be embarrassed in the name of science, so with that being said, Clay sent in a video and is now part of the audition process.
It didn't take long for Clay to receive word that he moved on to stage two of the review process!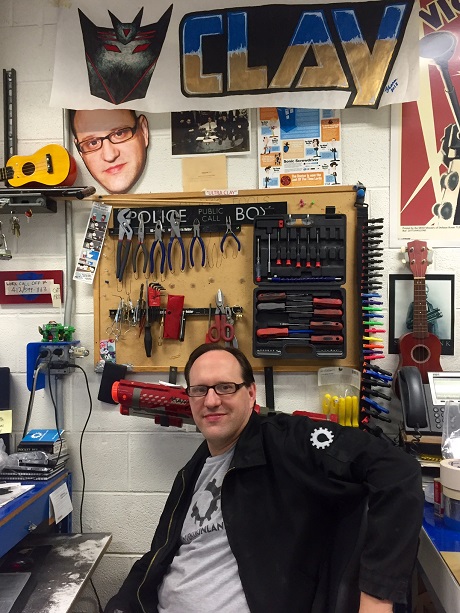 "Now, I imagine at any point from now until they have their people, I will hopefully get another email saying they'd like to have me on their show," said Clay, who remains hopeful about his chances, though he knows that he's up against some worthy competition.
"So far, the people who have seen [my video] seem to really like it, which is nice. I've got a lot of painfully honest and extremely talented friends who would say if they thought it sucked. They compared my video to other audition videos on YouTube and they feel like mine is at least one of the most entertaining," said Clay. "I went into this first imaging that I'm the person who has to watch video after video… I would think watching these one after another would get old quickly, so I tried to make mine punchy. Every few seconds there's a little something to (hopefully) keep your attention – For the most part, I think I managed to pull that off with things happening, cuts between clips and me doing embarrassing things."
Clay was lucky enough to receive a lot of help from his wife, Monica, in creating his audition video. The pair pulled off this feat at our very own invention factory in just one weekend!
According to Clay, in order to achieve one shot in particular, Monica had to hold a phone and tripod to shoot the video, all the while squatting on the floor, bracing the end of a ping pong shooter on the tip of her toes!
Talk about multitasking!
 "I built a ping pong ball shooter out of a portable shop vac! With that, we had also built an elaborate makeshift tripod out of PVC I got out of the rack in the Wood Shop, which was taped together," said Clay. "… I owe Monica so much! She has been tremendously so supportive and helpful. I can't say enough how indebted I am to her on many, many levels; this is just one example."
Clay's certainly offered a lot of education and entertainment here at Inventionland and we can only hope he'll get the chance to do the same on the Science Channel's Search for the Next MythBusters!
The new series is set to begin taping next month and Clay can expect to find out the status of his audition within the next few weeks!
So please, join us in wishing our crazy Creationeer Clay good luck as he looks to take his product testing to the next level with the Science Channel!
Copyright Inventionland, 2016
Media:
https://upload.wikimedia.org/wikipedia/commons/4/49/MythBusters_logo.png