It's been a little over a week since our creative design facility was filled with creatively-costumed characters at the 2015 Inventionland Halloween party. Here's a quick look at the three top winners from this year's event!
At the party, as we previously mentioned, there were monstrous amounts of devilishly-delicious drinks and appetizers, music, masks and so much more, including a Jack-O-Lantern contest and, of course, the highly-anticipated costume contest!
But, before we reveal the three top winners, we can't forget to mention that Inventionland Designer Tess won first place in the Best Jack-O-Lantern contest with her witchy pumpkin!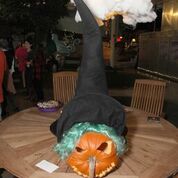 Now, on to the main event – the reveal of the three top winners for the costume contest!
This year's top costume contest bragging rights went to Inventionland Packaging Engineer Shannon, who paraded around our invention factory like a Barrel of Monkeys! Shannon took home the crown and was awarded the Best Overall Costume!
There was no monkeying around when Shannon created this costume. It took her a lot of time to complete!
"It was all cardboard. I would say it took about 20 hours to bring it all together. All I have to say about winning Best Overall Costume is that I am glad people liked it!" she said.
Shannon went on to explain that aside from the actual construction of her costume, creating the perfect fit was also difficult!
"Some of the challenges were attaching it to me, size and proportions, and doing something with the lid. Instead of having it attach to me, it had supports that just rested on my shoulders. I made a quick input model of the bottom part of the barrel to try to get my scaling correct. I only made the bottom part, so whenever the entire barrel was made, it was a bit bigger than I anticipated. I ended up propping the lid up with wedges, but I would say that could have been a little more developed!" she laughed.
Next on the top winners' list is Inventionland's Senior Design Manager Clay, who won Best Overall Costume Runner-Up for his Thor costume.
We can't help but think that Clay might have foreshadowed his costume a few months ago!
"The Thor costume is a testament to the torment I subject my team on the build line to. As a spook of the Geico 'Hump Day' commercial, I commonly dress as Thor and harass my fellow builders yelling, 'Guess what day it be!' This was the inspiration behind the video we shot a few months ago. Because the Halloween Party was held on 'Thor's Day,' I could not pass up the opportunity to spread my 'Thor's Day' enthusiasm with the entire company." said Clay.
The only thing missing from his costume was the ability to call down bolts of lightning! "I decided that cookies would serve both as lightning and perhaps a bribe to the judges!"
Now, on to the third and final costume that was one of the three top winners.
Industrial Designer Sarah took home the award for Best Use of Materials for her El Capitan costume that was made from bottle caps!
"There were over 600 bottle caps. It took me about 40 hours to make it. I've been collecting bottle caps for over five years, so I had enough to make patterns and fun designs. It was made entirely out of wire and bottle caps. I call it El CAPitan. Get it? Caps? I took my costume out to a competition in Millvale, Pennsylvania over the weekend and won second place there, too! I love the Best Use of Materials category because it is full of handmade, unique costumes." she said.
Congratulations to all of this year's costume contest winners! But, the thrill of the Inventionland Halloween party doesn't stop here! Check back this week for part two of our recap. In the meantime, if you'd like to see more pictures from this hauntingly good party, head on over to the Inventionland Facebook page.
Copyright Inventionland, 2015