This news doesn't need much of an intro! Inventionland's innovative Mega Bacon Pan is a QVC best seller!
It wasn't that long ago that the Mega Bacon Pan appeared on QVC's In the Kitchen with David. While on the show, the Inventionland-designed product sold at an astounding rate.
Well, it turns out that the Mega Bacon Pan became a QVC best-seller and was invited back to QVC again to give host David Venable and Chef Tony Notaro an opportunity to experiment with the product even further, making some delectable creations in the kitchen!
The most recent airing of the Mega Bacon Pan was also a success. What makes it such a successful product? It all comes back to the foundation of the work that Inventionland Creationeers strive for on a daily basis. Innovation.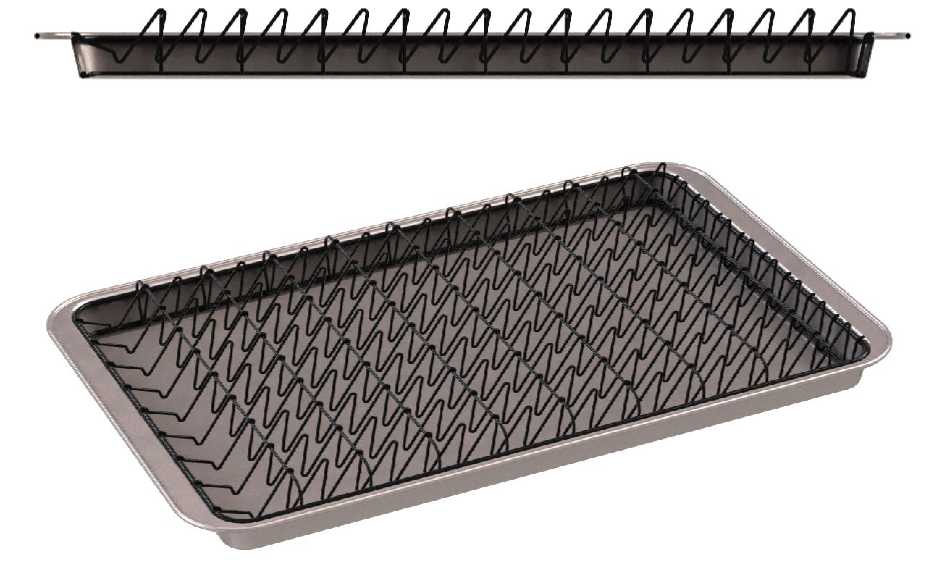 By creating a two-part pan with baking sheet and wire rack made of non-stick coated steel, Inventionland Creationeers were able to create a unique pan large enough to hold up to eighteen slices of thick-cut bacon. Each slice is placed on the elevated cooking rack on a diagonal, allowing the grease to drip away from the food and into the bottom pan, which acts as a reservoir.
With the pan as a simple solution to a greasy problem, it's no wonder it's a QVC best-seller!
And the excitement doesn't stop there! Last week, we talked about how the Mold-A-Rama machines brought a bit of nostalgia into our invention factory, especially for two Inventionland Creationeers. Well, our Mega Bacon Pan happened to stir up a bit of nostalgia for QVC host David Venable, too!
"This smells like Saturday mornings at my house growing up when we had a full on breakfast!" said Venable during the segment.
Congratulations to the Inventionland Creationeers on creating a best-selling solution that's done so well on QVC!
Copyright Inventionland, 2016