Inventionland Creationeers take the Carnegie Science Center's Girls Rock Science Weekend by storm!
If you've read the Inventionland blog before, you know that we continually cast a bright light on the groups of students, teachers and other community members who have taken a tour through our creative design facility, Inventionland.
During the tours, our guests are immediately engaged in the science, technology, engineering and mathematics (STEM) that are alive and well throughout our 61,000-square foot factory to turn invention ideas into real products.
Just last weekend, a team of Creationeers brought the innovation that lives within the walls of Inventionland to the community for the Carnegie Science Center's Girls Rock Science Weekend event.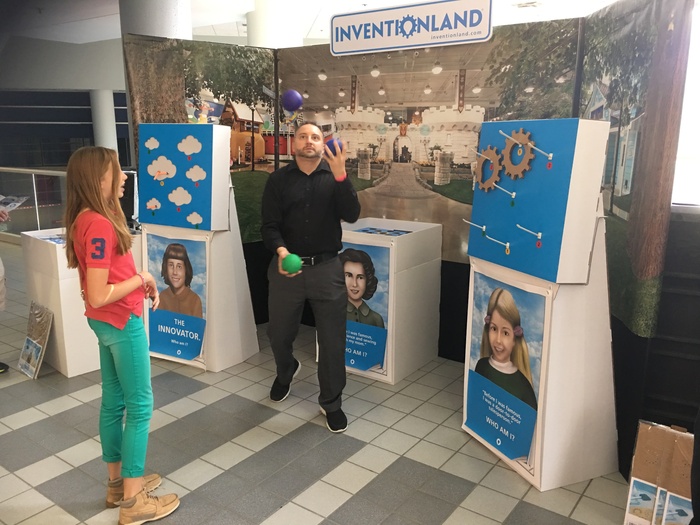 From September 24- 25, the event was held to encourage girls, ages 11-17, to get excited about STEM by introducing them to hands-on science activities and to people who are currently working in the STEM fields.
At the event, Inventionland was proud to have our own booth that featured three carnival-type games that were designed and created right here at Inventionland!
Each game highlighted a famous female inventor. These three inventors included Temple Grandin, Stephanie Kwolek and Sarah Blakely. The games emphasized their inventions and included their photographs, which were featured on Who am I? boards.
According to a couple of our Creationeers, Inventionland booth visitors enjoyed playing the three games as well as learning about the inventing course that's based on our proven nine-step inventing method.
"We knew going in that people might spend around five minutes at each booth," said Creationeer Nathan. "We just wanted to spread the word across the region about who we are and what we do."
Nathan said that some visitors already knew about Inventionland and some had even visited our design facility before! But, the Inventionland team was also able to meet with some Girls Rock Science Weekend attendees that were learning about Inventionland for the first time.
Creationeers Trevor, Jon, Sharon, Tess, John, Katie and Michael "Spicy" were in attendance at the event as well and spent time with students, teachers and community members at the Girls Rock Science Weekend!
That's not all; George Davison even brought his daughter to the event, where they joined forces and tackled the Inventionland booth games, explored Roboworld™ and took in all that the Girls Rock Science Weekend had to offer!
The Carnegie Science Center's Girls Rock Science Weekend was quite the success and here are some more pictures to prove it!
Copyright Inventionland, 2016