On Wednesday, March 23rd, and Monday, April 4th, groups of young professionals from regional grocer Giant Eagle's corporate office took a spin around our invention factory. Keep reading to learn what they had to say about Inventionland.
At Inventionland, we're always happy to open our doors to visitors from all over to come and see for themselves the creativity and innovation that lives within our design space.
In the past few weeks, two groups of young professionals from Giant Eagle, a regional supermarket chain's corporate office, paid a visit to Inventionland.
The groups were part of the Giant Eagle Young Professionals Organization (YPO).  Almost immediately after their tours, we were flooded with amazingly inspirational feedback from these intelligent groups.
It was a general consensus that the YPO members were in awe of what was behind Inventionland's doors. Though our building looks seemingly "normal" from the outside, the inside is a whole different experience. To the groups, our 16 unique sets were "unexpected and innovative."
But that's not all this group had to say. Here are some more great examples of the feedback we received from Giant Eagle's YPO!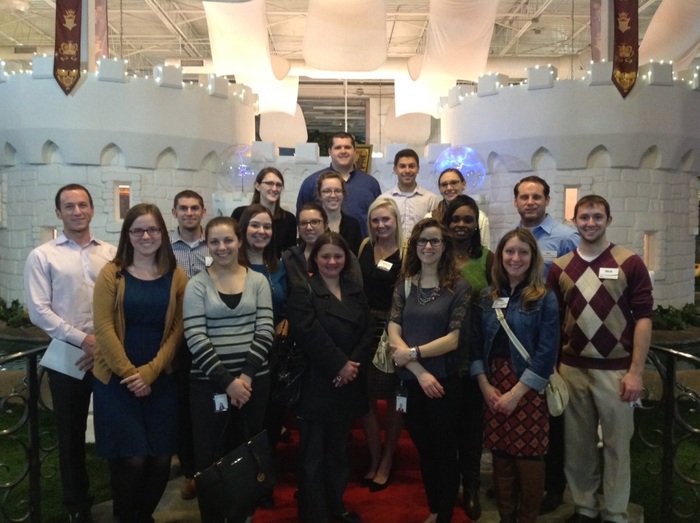 Dolly Hayden, IS Project Manager, had nothing but great things to say about our invention factory. In fact, she took what she learned that day and immediately wanted to apply this innovation to her own workspace.
"I went back to work that very same day saying to myself 'how can I make work life more interesting for my team members?'" said Hayden.
To this point, Eric Hawkins, HR/Labor Relations Specialist, echoed those sentiments and admitted that the Inventionland visit may be more inspiring than one would think.
"I'm sure you can expect some submissions to come from our group," he said.
If you've never been to Inventionland, take a look at Business Consultant Samuel Talerico's description:
"The initial impression of Inventionland is absolutely stunning. You feel like you literally just got transported to Disney World instead of into an 'office building,'" said Talerico.
Though we'd love to share all of the amazing feedback that we received from this group, we'll end with a simple, yet poignant, quote from Melinda Gaus, Sr. Administrator, Community Relations and Development.
"I was impressed with the atmosphere of team collaboration," said Gaus.
It's our inventive spirit and our Creationeers' collaboration that allows us to design and develop innovative products every single day.
It's safe to say that the Giant Eagle YPO members had an all-around motivating Inventionland tour! Special thanks to tour guide-extraordinaire Sam for taking this great group of young professionals on a tour of our creative space!
Schedule your group for an Inventionland tour today!
Copyright Inventionland, 2016