One of our very talented designers here at Inventionland, Matt, has been putting his expertise to use outside of work. Keep reading to learn what we're talking about! 
After putting in long hours on making invention ideas ready for store shelves, you may think that the last thing that Senior Corporate Designer and Engineer Matt would want to do is to go home and continue designing.
But, that idea couldn't be further from the truth! Matt recently shared a personal design story with us. So without further ado, we can't wait to share his creative design story with you!
It all started about a year and a half ago when Matt began his design for a model of one of his favorite planes, the Messerschmitt 109, a German World War II fighter plane.
With the help of 3D CAD design software, Matt began drafting a large-scale model of the plane in his spare time. So, whether it was on his lunch breaks or after business hours, he was determined to make his personal design dreams soar!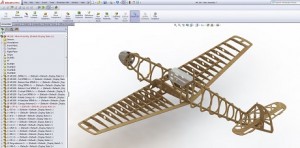 "I planned this out in a 3D environment [in] my spare time and lunch breaks… about two weeks ago, I had all the parts cut and started assembling," he said.
Though designing his version of the Messerschmitt 109 took over a year, the assembly process proved to be much faster.
After taking the time and effort to design and then build something he's always dreamed of, it is no wonder that Matt couldn't resist hanging one of his personal design motivations in the office!
But, it didn't stay in the office; now, this innovative design is flying high as his replica Messerschmitt 109 model now hangs behind Inventionland's Creativity Cabin near the packaging area!
We hope that Matt's innovative spirit is the spark that you need to follow your dreams, too!
Copyright Inventionland, 2015