Here's a simple equation for you:  The Plaid Zebra + Inventionland = worldwide recognition! Keep reading to find out how we ranked!
Los Angeles, Stockholm, Madrid… Pittsburgh?
It may not seem that all of those cities have much in common, but there is one creative tie that binds them all together.
Around the world, those cities, along with Billund, Denmark, have been recognized by The Plaid Zebra for housing five offices that would actually make someone want to go to work.
Can you take a wild guess as to which Pittsburgh office cemented the Steel City on that worldwide list?
Of course! It's Inventionland!
The "Unconventional Lifestyle Magazine" recently tweeted their article to their 1,000+ followers in line with their mission to "broaden the horizons of potential lifestyle choices by uplifting the autonomous with inspiration and example." According to them, Inventionland's got all the uplifting inspiration needed to complete the creative inventing process.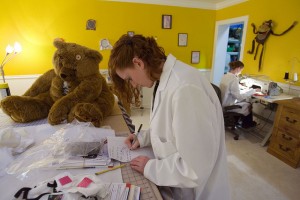 "Offices inside racetracks, [desks] aboard pirate ships, meeting rooms inside castles—just the kind of thing needed to inspire creative inventions (including, yes, toys)," said the recent "These Five Offices Actually Make You Want To Go To Work" article.
But, don't think that all of the creative office spaces recognized across the world were our competition! In fact, the other offices noted in The Plaid Zebra article included a fundraising company, an internet service provider, an architecture firm and toy-builder extraordinaire… Lego!
See more about why Inventionland and the other offices mentioned in The Plaid Zebra might actually make you want to go to work here.
Copyright Inventionland, 2015