Creationeers enjoyed a large morning breakfast together to kick-off the holiday season, fueling all for another creative and productive day. 
This morning, Inventionland held its very own "breakfast club," joining together for a pre-Thanksgiving breakfast feast inside Inventionland's Brainpower Ballpark. From eggs, bacon and hotcakes, to biscuits, gravy and more, these 6 A.M. starters received a major morning boost.
"It's a nice change," said Katie, Executive Assistant for Inventionland's education division. While Inventionland holds end of month parties during the final hour each last Thursday of the month, having a breakfast versus a pre-dinner snack was a welcome change.
Not only does breakfast add a jolt to the morning to help get the creative juices flowing, but it also made this end of month get-together more convenient for Creationeers ready to travel for the Thanksgiving holiday.
"Most people will be headed home Wednesday night because they're getting ready for Thanksgiving travel," said Creationeer and photographer Michael, better known as "Spicey," who was the main organizer of the breakfast feast.
"[Product Designer] Sarah came up with the idea that we should do something early, so that's when I decided we should do a breakfast," said Spicey.
"To have us all together helps keep the bond that makes Inventionland what it is – a great place to work, largely because of the people that work here," said Spicey who's been with Inventionland for over 11 years.
"Food from the beginning has always been one way that people socialize," said Spicey.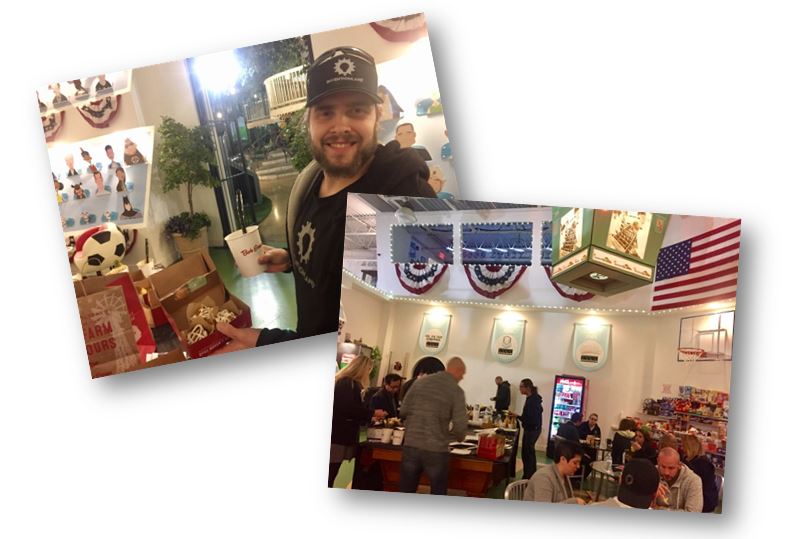 These monthly gatherings are just another example of how Inventionland's unique environment helps to combat creative burnout. The large morning breakfast was a jumpstart to our Creationeers' day, "egging them on" to a productive day with creative juices flowing.
How do you combat creative burnout?
Copyright Inventionland, 2016