Particularly here in Pittsburgh, Inventionland's home, the steel industry has been vital. Our football team wouldn't be called the Steelers if it wasn't! But did you know it's also a major part of American history in which women have played a particularly large role in?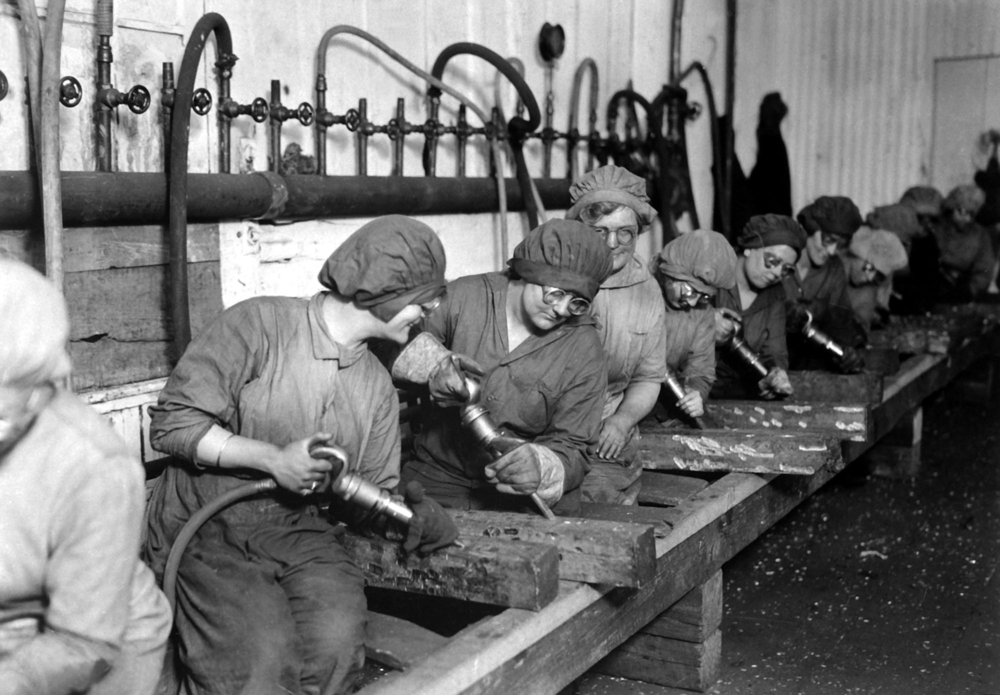 Much like lumberjacking, the United States was already a powerhouse of steel and iron production in colonial times. Furnaces popped up all around the country, and by 1776, the 80 iron furnaces throughout the colonies were as productive as all of those in Britain, mainly because of the shortage of wood in England (wood is needed to make charcoal, which was vital to manufacturing). Areas that mined coal, on the other hand, built steel mills nearby. Both industries remained stable and important into the early 1980s, even surviving both World Wars. However, a sharp decline in 1982 cut output in half and shuttered many businesses. Eventually, several "mini-mills" opened, but these were later bought out and conglomerated. Today, the steel industry is bouncing back slightly due to newly imposed tariffs on imported metals.
As for women, the most famous example of a female steelworker is, of course, the fictional Rosie the Riveter. Many women took over their husbands' jobs during WWII, with some remaining even after their spouses returned. (Oh and honorable mention shoutout to Alex Owens, the main character in the 1983 movie Flashdance, who is a female steelworker from Pittsburgh.) Today, groups like the Association of Women in the Metal Industries are working to promote the advancement of women in this field. According to an article published by the NWI Times, 20% of salaried/managerial positions in the steel industry are female, as are 10% of hourly workers. Most notably, some statistics suggest they're paid more than their male counterparts–a rarity in many industries. Structural iron and steel workers of both genders have an average salary of $51,301. Women, however, earn an average of $68,827 per year, according to DataUSA. It should be noted that these steelworkers overlap with the construction industry, which is more inclusive than some of its contemporaries. Nonetheless, in 2017 only 12.8% of the steel and iron manufacturing industries was female, which far from an even split.
We sat down with Sonya Malvick of Olympic Steel, who currently serves as the International President of the Association of Women in the Metal Industries (AWMI), to learn more about her career in the steel industry.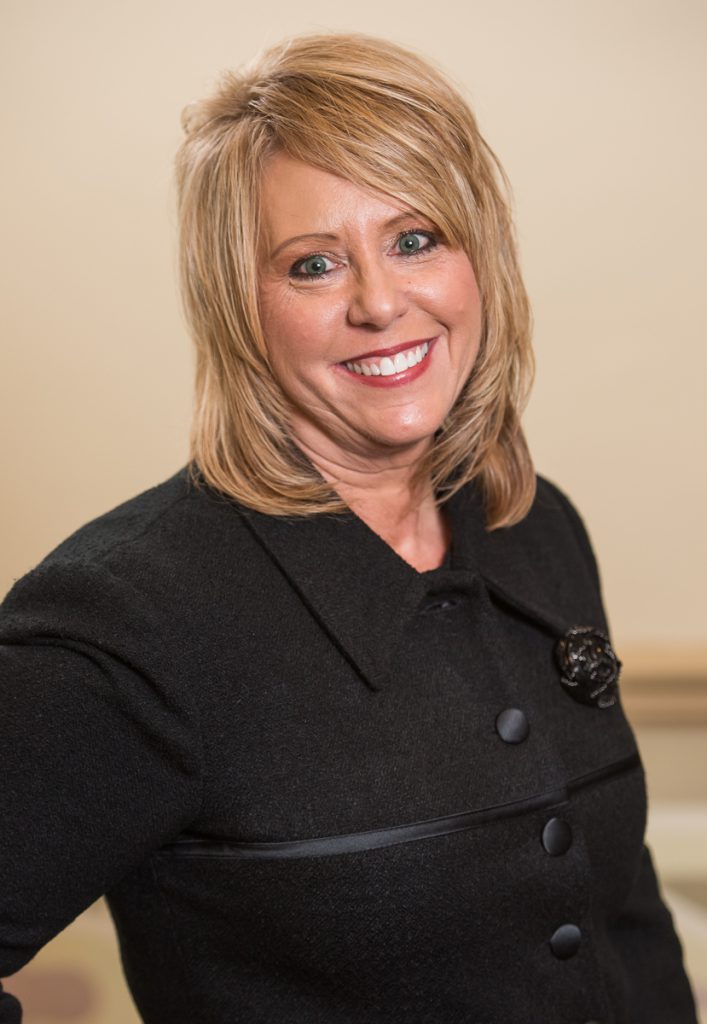 Inventionland (IL): You've been working in the steel industry since 1990. What led you to this industry and how do you keep work interesting?
Sonya Malvick (SM): I started out in the steel industry early on when I began helping at the Steel Fabricator that my father worked for. I began in High School and later in college doing clerical jobs during summer breaks. While I never had any intention of working in the metals industry (same as my dad), I found myself at another steel company during one of my last summers of school when I didn't want to return home from college. That began my story. I just continued to grow from there and ended up never leaving the industry.
The great thing about this industry is that it is always changing. I often wonder why people get in our industry and never leave and I believe it's because every day is different. I am challenged on a daily basis which certainly keeps things interesting. One also learns how to build relationships both with internal and external customers and we have some great people in the metals and manufacturing world.
IL: What is the biggest challenge you've faced in the steel industry, which is known as a male-dominated industry?
SM: The biggest challenge I have faced is trying to be taken seriously as a female in a male-dominated industry. This came earlier in my career but is still somewhat present today. Years ago women were not out making sales calls to men in the industry. Quite frankly, men didn't' know how to handle that entire piece. What would a woman be able to offer them and their business?  How would all of that work when it came to entertaining, etc.. so women had to fight hard to get a chance to prove themselves. I was passed by three times at my company when men hired after me were promoted and sent out on the road. I finally got my chance and it was a tough road. I had to not only prove to the company that they made the right decision but also prove to my customers that I knew the business and could provide value to them.  As women, we had to fight even harder for the sale as we constantly had to prove we were worth giving the business to. Today women are more and more prevalent on the sales side, and with our innate ability to multi-task, we have become a force to be reckoned with.
IL: Tell me about the Association of Women in the Metal Industries. Why is this organization important?
SM: AWMI was started back in 1981 to promote and develop the growth of women in the metal industry through relationships, education and shared knowledge.  It started at a time when women were definitely the minority in the industry and an organization like this would be there as support for all women facing the same challenges. Fast forward today and we have over eleven hundred individual members nationwide, thirty-two corporate company members and even some men serving on our boards. Our four cornerstones of Network, Grow, Educate and Mentor define what we stand for today and our meetings, conferences, and workshops center around these cornerstones. While today we are met with different challenges than back in the 1980s, women and men still need to support one another and continue to grow personally and professionally in our industry. We need to mentor those coming up behind us to ensure longevity in the industry as well as offer programs that allow for leadership training and development as we look to serve on boards running the organization.  AWMI serves for personal and professional development and will be a strong organization for years to come.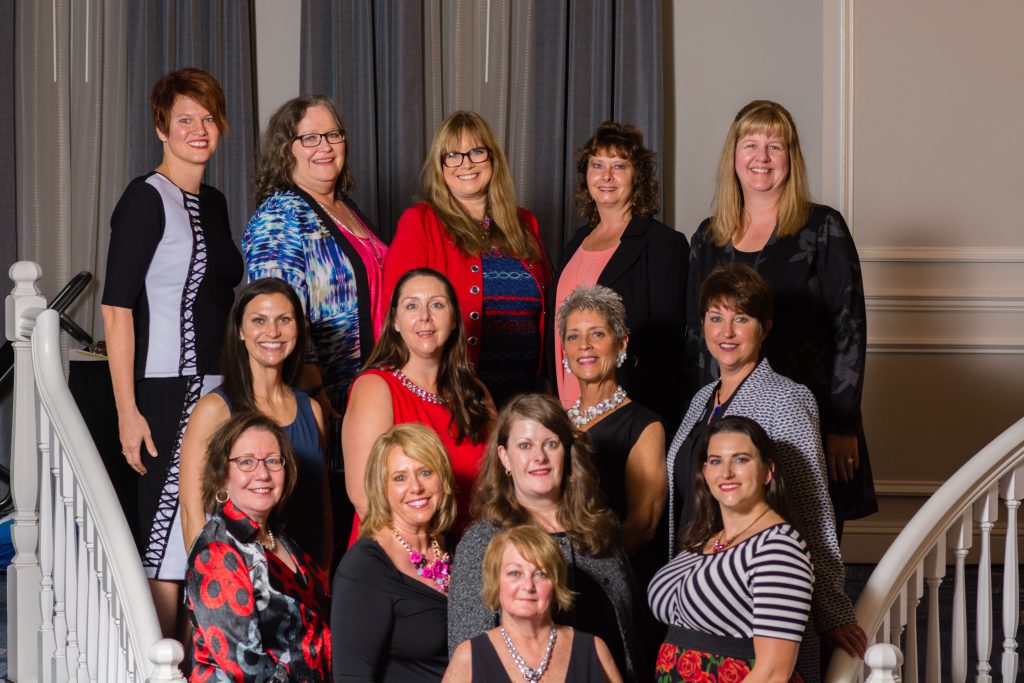 IL: You currently serve as the International President of AMWI. What does this entail?
SM:  The International President is responsible for leading the organization. I am responsible for overseeing the International Board of Directors, Regional Directors, and Chapter Boards throughout the country that serves our members.  The International President is instrumental in helping to facilitate the goals of the organization and provide a vision for the future to ensure the continued growth of the organization while providing members what they need. She is also responsible for providing training so our leaders are equipped to run our organization's business and carry it forward to future member leaders.
IL: Tell us about a typical day for you.
SM: A typical day for me …no day is typical in the world of sales and territory management. My role is to grow the business in my territory for the company while utilizing multiple Olympic locations to support my customer base. I am the liaison between customer and company and work to support both while ensuring a profitable outcome.  I travel to visit customers, meet with my internal team, schedule plant tours and mill tours, attend meetings relative to my industry, and work alongside my customer to offer cost savings initiatives as well as ensuring we are supporting them in all areas. Relationships are key both internal and external when you are looking to accomplish growth in your territory and a key focus for me during a typical day.
IL: What are you most proud of in your career?
SM: I am the proudest of my continued growth in the industry both personally and professionally all while maintaining integrity. I started my career pushing hard to get to the next step and when faced with the challenges of that time, did not give up. I eventually became the first woman outside sales person for my company and later the first woman to sit on the management team for the organization.  I have been instrumental in mentoring women along the way so that they too have been able to achieve their goals and enter into roles otherwise earmarked for men. I continue to embrace change, challenge myself and others around me and facilitate teamwork. I have been active with AWMI for 25 years and grown within the organization as well. I began serving on a chapter board, moving into the International board and this year was awarded the opportunity of being voted as the International President–something I would not have thought possible years ago.
IL: What advice do you have for girls who are interested in pursuing a career in a field that is typically male-dominated?
SM: Don't let any potential barrier stop you for achieving your goals. Stay true to yourself and push hard to succeed all while doing it with integrity. Women are capable of accomplishing anything and we are strong supporters of each other's efforts. Make sure to join an organization like AWMI and find a mentor to help you along the way. Be open to continued learning and know that you are not the expert on everything but rather learn from mistakes and don't' be afraid to take risks.