It's a "tail" of trade show success following a lot of preparation by our Inventionland Creationeers as the Global Pet Expo has come to a close in Orlando, Florida.
As we've covered in recent blog posts – from getting ready for the International Home + Housewares Show in Chicago to the Global Pet Expo in Orlando – a lot of time and preparation has gone into ensuring that Inventionland-designed products, packaging and displays are completed by deadline and ready to be shipped and showcased in front of the masses at these events.
Just last week, the Global Pet Expo took place at the Orange County Convention Center in Orlando, Florida. From March 16th-18th, attendees gathered to see what's new at the pet industry's largest annual trade show.
Any show-goer who was browsing the new items at the Hugs Pet Products' booth got a little glimpse of the work that comes out of Inventionland.
These little glimpses showcase our Inventionland Creationeers' talents in a big way. From products to packaging to display creation, we played an integral role in the trade show process.
For the Global Pet Expo in particular, we helped our friends at Hugs Pet Products prep their brand new products, like the Massaging Groomers line – products that we designed, engineered, built and packaged right here at our invention factory.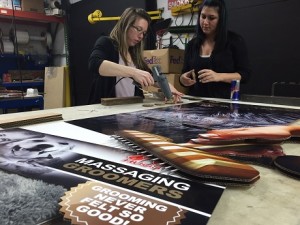 Retailers and buyers showed much interest in many products, but particularly the Massaging Groomers line, calling the grooming brushes "innovative" – a great compliment to our Creationeers who aim for innovation everyday.
Our Creationeers also got down to business as they put the finishing touches on all of the assets that appeared at the Hugs Pet Products' booth, too!
The excitement was definitely there as Hugs unveiled their latest and greatest RealTree products that'll soon be available for purchase. These products will consist of pet treats, Cool Cots and cooling towels!
Trade show season has just begun and there's more exciting product news to come!
Copyright Inventionland, 2016