From graphics to packaging and displays, Inventionland Creationeers have been diligently preparing for Global Pet Expo! Keep reading to learn more.
Inventionland Creationeers have the uncanny knack to transition from one trade show to the next. In what seems like an overnight switch, the creative minds here at Inventionland went from preparing for the International Home + Housewares Show to putting the final touches on packaging and displays in preparation for the 2016 Global Pet Expo in Orlando, FL.
The Global Pet Expo isn't your average trade show. In fact, it's the biggest of its kind in the pet industry and it kicks off today at the Orange County Convention Center through Friday, March 18th. This year's Global Pet Expo is scheduled to feature more than 900 international companies and over 13 football fields' worth of pet products for animals ranging from dogs, cats and birds to fish, reptiles and even horses.
Our friends at Hugs Pet Products will be one of those companies showing off their latest and greatest products at the trade show. This year, Hugs will be armed with some of the most innovative pet products, packaging and displays that came right from our invention factory.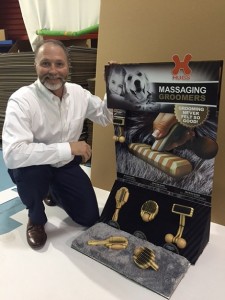 Aside from showcasing some of their big-name licenses, Hugs will also be introducing their brand new Massaging Groomers line of pet grooming products. Since appearing at SuperZoo – the National Show for Pet Retailers – last year, the brush designs have been further developed and, more excitingly, have just hit store shelves!
"Not only did they design, engineer, build and package all of these products, but they also did the display to help communicate [the products] to buyers…We tend to make things look pretty simple when they're all done, but behind-the-scenes, there's a lot of work in building one of these," our founder and CEO George Davison said of the product displays.
With quite a few other product displays to prepare before a tight shipping deadline, it came down to total teamwork to finish and perfect each one.
Check out this behind-the-scenes look at our Inventionland team putting the finishing touches on all assets before shipping them off to the Global Pet Expo:
These products and more will be on display at the Hugs Pet Products booth (#2651) in Orlando during the Global Pet Expo!
Here's to a great trade show!
Copyright Inventionland, 2016