#ContainYourself because we've got exciting new product news to share thanks to an innovative, Inventionland-designed product now available at The Container Store!
Late last year, founder and CEO Mr. George Davison ("Mr. D") and a team of Inventionland Creationeers attended an exclusive, invite-only preview party at The Container Store's brand new Pittsburgh location. Finding many Inventionland-designed and packaged products on their store shelves was exciting, but this New Year brings more great news. #ContainYourself because we have something pretty cool to share!
Thanks to a partnership with Jokari – a company that aims to "Make Life Better" with kitchen gadgets, storage and organization solutions, and more – our talented Creationeers have worked hard to innovate Jokari's product line.
That dedication to innovation is what has brought many Jokari products to retail store shelves, including The Container Store. It all starts with an idea! As it turns out, sometimes those new product ideas become a "home run."
Just this week, Mr. D announced that the Inventionland-designed Pull Up Hanger for Jokari, now selling in private-label packaging as the Chrome Tank Top Hanger by The Container Store, has been very well received! An email came in from Jokari's buyer from The Container Store to note that this product is "…definitely a home run!"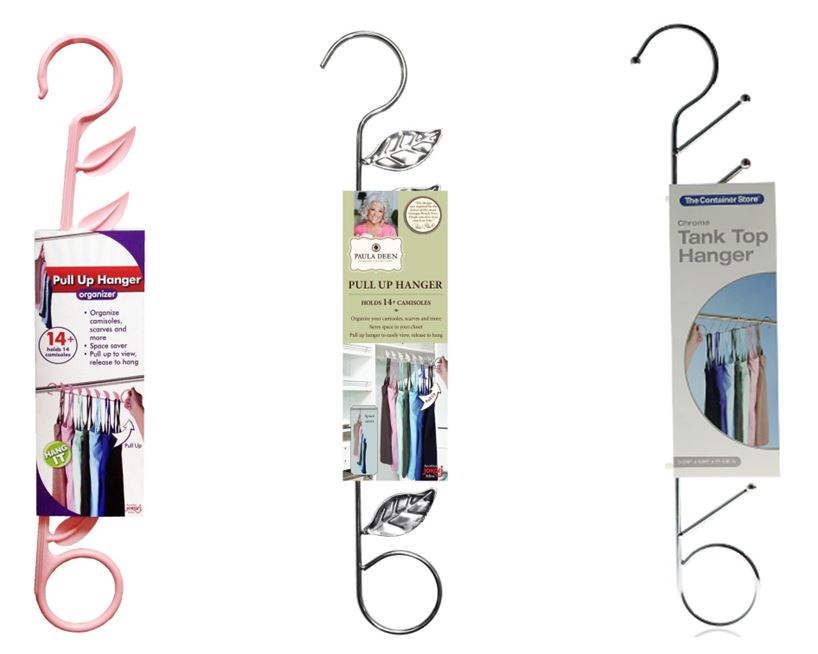 "I think it's a great example of taking a product in three different directions and seeing the possibilities," said Creative Director of Design Tim, noting how the original Pull Up Hanger has been redesigned and packaged under Jokari's Paula Deen Everyday collection, in addition to the new version at The Container Store.
Graphic Designer Tess originally thought of the concept back in 2010 as she stood in front of her closet. "One of the problems I had was storing my tank tops," said Tess. "I was looking in my closet and trying to think of easy ways to store them. Then, I had that 'aha!' moment – what if they hung vertically, but you could lift them up to view them all? It was me at home thinking 'I wish I had this!' It's a personal concept, something I needed and something I believed in. To see that it's doing so well is pretty gratifying. It kind of justifies our design, research and product testing," said Tess.
It may have been a while in the making, but sometimes these product development struggles make the best stories. "I love telling the story of how things might sit for ten years before they do anything," said Tim. "If you believe in your idea and you keep nagging the right people, eventually it's going to be a great seller as we've seen in this example with The Container Store," said Tim.
Congratulations to Tess and the team for believing in an idea and seeing it through the years! Check out Tess's Chrome Tank Top Hanger at The Container Store here!
Copyright Inventionland, 2017