This isn't the first time that we've welcomed international visitors to our creative design facility and it surely won't be the last! But, this group was different! We were ecstatic to open our doors to a group of seventh grade students from Beijing, China! Keep reading to learn more about their visit!
Impressive.
That's what Vice President of Production, Sam, and his coworkers at Inventionland thought of this bright group of students from Beijing, China!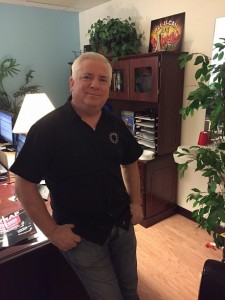 Sam is an Inventionland-tour giving guru who guides groups through our inventive workspace.
Groups have come from all corners of the world and sometimes, Sam has to give his tour to visitors who don't speak English as their native language. There have been challenges along the way, but this wasn't the case when Peking University Elementary School students visited at the end of September.
At their school, which is one of the most prestigious in all of China, they begin taking English class in the first grade; so, Sam said there was no communication barrier whatsoever.
 "The students really understood the innovative process, which was neat! They seemed to get it," said Sam.
One thing that Sam found particularly interesting about the Peking University Elementary School students was their extreme level of discipline.
 "When they stood in Mr. Davison's office awaiting the infamous bookcase reveal of Inventionland, [they were] all standing in perfect formation. They dropped their book bags off and got right back in the same, perfect order," he said.
The group of seventh grade students made their visit to America to participate in a science camp at the Winchester Thurston School, which is located in Pittsburgh's Shadyside neighborhood.
But, once they heard about Inventionland, they couldn't help but visit our creative space!
According to Dr. Brian White of WholeRen Education, the Chinese-American cultural exchange service that helped organize the students' trip, the group loved Inventionland and even likened it to working at none other than Disneyland!
"Even the teachers were awed by the opening," said White. "They were impressed by the variety and just how extensive creativity could be."
Speaking of that creativity, the Peking University Elementary School students also were quite impressed by our Inventionland team.
"[They were surprised] that it was also a work environment and the enthusiasm of the employees," said White.
Without a doubt, White said the students' Inventionland visit will continue to impact their future studies.
"[They learned that] work can be fun [and] creativity is all around you…" said White.
From Beijing, China to our invention factory – our Inventionland team continues to spread their creativity.
In fact, yesterday, our doors were opened to the Carnegie Science Center's CanTEEN Career Exploration program.
Stay tuned for pictures and details from their tour – coming soon!
Copyright Inventionland, 2015